Accessing the QM+Emulate Centre
We support academic research grant applications by providing letters of support detailing in-kind contribution associated with access to the facilities, associated centre scientist support and industrial engagement - please contact Dr Clare Thompson to discuss.
To request access, please complete the access request form. We will then arrange your access to the state-of-the-art organ-on-a-chip technology and support your research with one of our dedicated Centre Scientists  as well as providing industrial support through our joint steering committee.  
To minimise unnecessary travel, we are  currently able to support the full or partial remote running of experiments. Please contact  emulate@qmul.ac.uk for further details.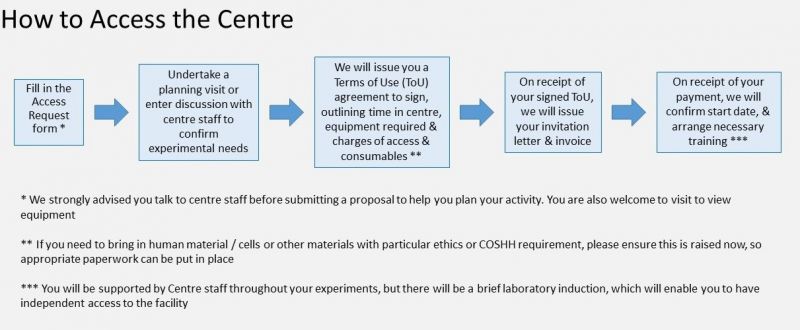 Forms and agreement documents:
Purchasing of Emulates blank organ chips (Chip-S1) can be managed through the Centre, chips are available at a discounted rate please enquire for further details. Additional fees are charged to cover costs of administration,  training,  the use of  Emulates platform and some basic consumables for chip culture.  For shorter projects (2-3 weeks), use of the Centre is charged at £600/12-pack of chips  while longer projects (4-6 weeks), or projects requiring extended use of the the cell culture module  e.g  airway epithelium chip, are charged at £800/12- pack of chips.
Please note longer projects, repeat usage or projects requiring remote working may require alternative  charging which will be discussed during the planning phase of the project.