Dr Thomas Iskratsch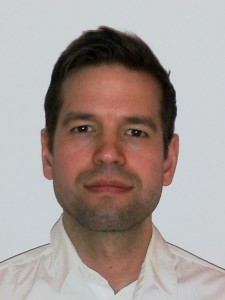 PhD, Dipl.-Ing.
Reader in Cardiovascular Mechanobiology and Bioengineering
CPM Industrial Engagement lead and Director of PREMMIR Centre for Doctoral Training
School of Engineering and Materials Science
Queen Mary University of London
Research
Cardiovascular Mechanobiology, Mechanosensing, Cardiovascular Disease, Micro-/Nanopatterning, 3D models
Interests
Cells in the cardiovascular system react to the changing mechanical stimuli. This affects their behaviour and can trigger cardiovascular disease onset and progression. We are studying cellular mechanosensing in cardiomyocytes and vascular smooth muscle cells, in 2D and 3D in vitro models and using tools to apply or measure forces (AFM, nanoindentation, nanopillars, pressure stimulation), as well as super-resolution or high content imaging and automated image analysis. This allows us to dissect cellular pathways of mechanosignalling and identify novel therapeutic targets, or to develop improved drug testing platforms.
Publications
2023
2022
2021
2020
2019
2018
2017
2016
2015
2014
2013
2012
2011
2010
2009
Grants

Grants of specific relevance to Predictive in vitro Models

Nanobioarrays to screen for modulators of mechanosensing in heart failure
Iskratsch T
and Kotalakshminaraasimulu NK
Engineering and Physical Sciences Research Council
(19-09-2022 - 30-03-2026)

The regulation of mechanosensing in healthy and atherosclerotic vascular smooth muscle cells
Swiatlowska P and
Iskratsch T
£238,020
British Heart Foundation
(01-12-2020 - 30-11-2023)
---

3D Photoelectrochemical imaging in porous light-addressable structures
Krause SK
, Zhou B and
Iskratsch T
£202,249
Engineering and Physical Sciences Research Council
(01-02-2021 - 31-10-2022)

Investigating the cardiomyocyte rigidity sensing mechanism with micro patterned surfaces and nanopillars
Iskratsch T
£490,544
Biotechnology and Biological Sciences Research Council
(01-02-2019 - 31-01-2022)

Actin polymerization during myofibrillogenesis and its regulation by mechanosensing
Iskratsch T
USD92,000
American Heart Association
(01-01-2013 - 31-12-2014)