Dr. Yejiao Shi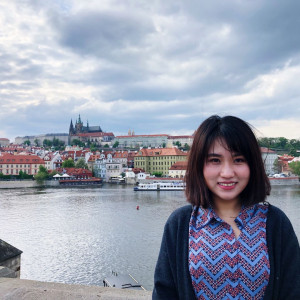 Postdoctoral Research Assistant
Publications

Publications of specific relevance to Predictive in vitro Models
2020

Radvar E,
Shi Y
, Grasso S, Edwards-Gayle CJC, Liu X, Mauter MS, Castelletto V, Hamley IW, Reece MJ and
Azevedo HS
(2020).
Magnetic field-induced alignment of nanofibrous supramolecular membranes: a molecular design approach to create tissue-like biomaterials.
American Chemical Society
Acs Applied Materials and Interfaces
10.1021/acsami.0c05191

Wu Y,
Wang W
, Mata A, Pugno N,
Azevedo H
, Karabasov S and Titirici M-M (2020).
Disordered protein-graphene oxide co-assembly and supramolecular biofabrication of functional fluidic devices.
Nature Research (Part of Springer Nature)
Nature Communications
10.1038/s41467-020-14716-z
2019

Shi Y
, Ferreira D, Banerjee J, Pickford A and
Azevedo HS
(2019).
Tuning the Matrix Metalloproteinase-1 Degradability of Peptide Amphiphile Nanofibers through Supramolecular Engineering.
Royal Society of Chemistry (Rsc)
Biomaterials Science
10.1039/c9bm00949c

Lombardi L,
Shi Y
, Falanga A, Galdiero E, de Alteriis E, Franci G, Chourpa I,
Azevedo HS
and Galdiero S (2019).
Enhancing the Potency of Antimicrobial Peptides through Molecular Engineering and Self-Assembly.
Biomacromolecules
vol. 20, (3) 1362-1374.
10.1021/acs.biomac.8b01740

Li B, He W, Ye L, Zhu Y, Tian Y, Chen L, Yang J, Miao M,
Shi Y
,
Azevedo HS
, Ma Z and Hao K (2019).
Targeted Delivery of Sildenafil for Inhibiting Pulmonary Vascular Remodeling.
Hypertension
vol. 73, (3) 703-711.
10.1161/HYPERTENSIONAHA.118.11932
2018

Shi Y
, Lin R, Cui H and
Azevedo HS
(2018).
Multifunctional Self-Assembling Peptide-Based Nanostructures for Targeted Intracellular Delivery: Design, Physicochemical Characterization, and Biological Assessment.
Methods Mol Biol
vol. 1758, 11-26.
10.1007/978-1-4939-7741-3_2
2017

Ribeiro S, Radvar E,
Shi Y
, Borges J, Pirraco RP, Leonor IB, Mano JF, Reis RL, Mata Á and
Azevedo HS
(2017).
Nanostructured interfacial self-assembled peptide–polymer membranes for enhanced mineralization and cell adhesion.
Royal Society of Chemistry (Rsc)
Nanoscale
vol. 9, (36) 13670-13682.
10.1039/c7nr03410e

Shi Y
, Hu Y, Ochbaum G, Lin R, Bitton R, Cui H and
Azevedo HS
(2017).
Enzymatic activation of cell-penetrating peptides in self-assembled nanostructures triggers fibre-to-micelle morphological transition.
Royal Society of Chemistry (Rsc)
Chemical Communications
vol. 53, (52) 7037-7040.
10.1039/c7cc03512h

Shi Y
, Conde J and
Azevedo HS
(2017).
Empowering the potential of cell-penetrating peptides for targeted intracellular delivery via molecular self-assembly.
10.1007/978-3-319-66095-0_12
2016

Banerjee J,
Shi Y
and
Azevedo HS
(2016).
In vitro blood-brain barrier models for drug research: state-of-the-art and new perspectives on reconstituting these models on artificial basement membrane platforms.
Elsevier
Drug Discovery Today
vol. early view online, 1367-1386.
10.1016/j.drudis.2016.05.020