Dr Sheetal Inamdar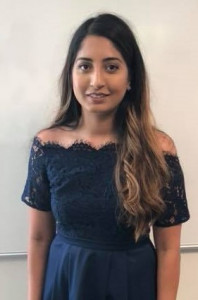 Post Doc Researcher
‌
School of Engineering and Material Sciences
Queen Mary University of London

s.r.inamdar@qmul.ac.uk
Research
Cartilage biomechanics, SAXS, Collagen, Multi-scale modelling, Nanomechanics
Interests
I am interested in the age related mechanisms that lead to altered tissue structure and mechanics through nanomechanical changes in the collagen matrix. We utilise bovine cartilage to model targeted structural changes which are then probed using small angle X-ray diffraction combined with in-situ mechanics.
Publications
2019

Inamdar SR
, Barbieri E, Terrill NJ,
Knight MM
and Gupta HS (2019).
Proteoglycan degradation mimics static compression by altering the natural gradients in fibrillar organisation in cartilage.
Elsevier
Acta Biomaterialia
vol. 97, 437-450.
10.1016/j.actbio.2019.07.055
2017

Inamdar SR
, Knight DP, Terrill NJ, Karunaratne A, Cacho-Nerin F,
Knight MM
and Gupta HS (2017).
The Secret Life of Collagen: Temporal Changes in Nanoscale Fibrillar Pre-Strain and Molecular Organization During Physiological Loading of Cartilage.
Acs Nano
10.1021/acsnano.7b00563
2012

Chen J, Irianto J,
Inamdar S
, Pravincumar P,
Lee DA
, Bader DL and
Knight MM
(2012).
Cell mechanics, structure, and function are regulated by the stiffness of the three-dimensional microenvironment.
Biophysical Journal
vol. 103, (6) 1188-1197.
10.1016/j.bpj.2012.07.054